"I saw bruises that covered their entire bodies…I was particularly struck by a bruise on the face of one of the patients. It had the shape of a boot sole. The patient had been kicked in the face….I never could have imagined that I would see trauma such as this in peacetime."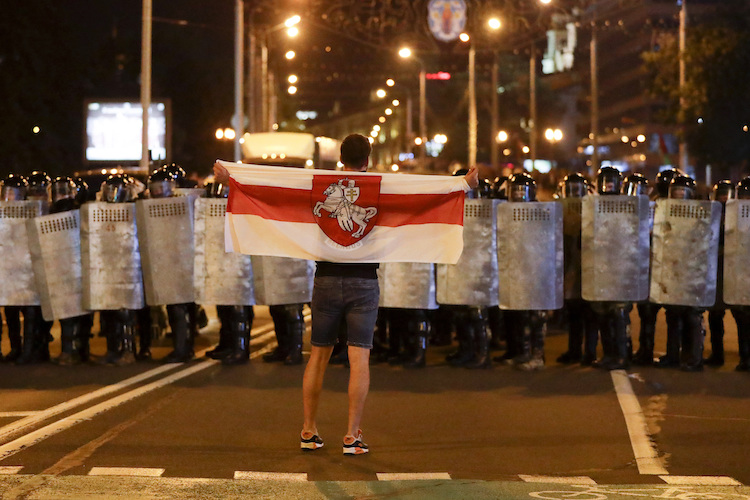 These are the words of a doctor in the country of Belarus, describing the injuries of protestors who have been victims of police violence amid mass demonstrations following a rigged presidential election. Demonstrators have endured this treatment on behalf of a massive Belarusian movement with the goal of achieving true, free, and fair elections, bolstered by discontent with the Belarusian government that has been simmering for the past decade.
The Fall 2020 Protests
On August 9, 2020, it was announced that President Alexander Lukashenko of Belarus had won a sixth term in office, after 26 years in power. According to the Belarusian government, 80 percent of the country had voted in favor of the incumbent. Immediately following the announcement, protestors took to the streets of Belarus, in opposition to the manipulation of the election, and in support of the widely popular opposition candidate, Sviatlana Tsikhanouskaya. The protests have continued for nine weeks. It is believed that a proper counting of ballots would have shown that Tsikhanouskaya had won the election.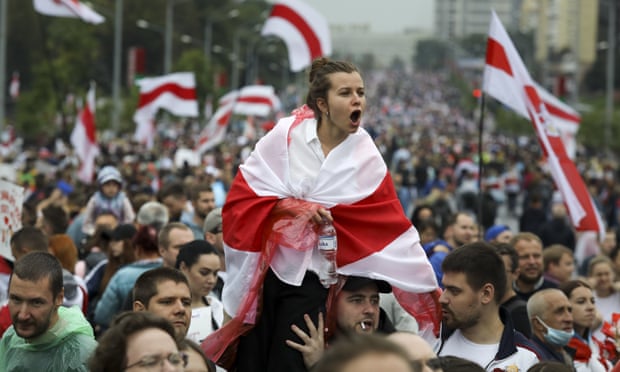 Tsikhanouskaya's position as an opposition candidate was the result of early attempts by the government to eliminate other candidates. Viktar Babaryka and Siarhey Tsikhanouski were arrested for doing so, and Valery Tsepkalo's name was not allowed on the ballot. In an unprecedented turn of events, Tsepkalo's and Tsikhanouski's wives, along with Babaryka's campaign manager, united to create a campaign called United Headquarters, and chose Tsikahnouski's wife, Sviatlana Tsikahnouskaya, as their candidate. Her position as a woman made her uniquely suited to oppose Lukashenko. The political establishment did not expect a woman to emerge as a formidable opponent, poising her to be an unexpected opposition leader. 
Tsikahnouskaya's campaign was characterized by massive campaign rallies, unseen in years, and clear objectives: to beat Lukashenko, free political prisoners and organize a truly free election. Her aim was not to govern; even so, her campaign galvanized Lukashenko's opposition. A multigenerational swath of supporters became politically engaged; many signed up to be election observers. 
Demonstrations following the announcement of Lukashenko's false victory are the largest in the history of Belarus. The group behind the protests is called the Coordination Council; it has organized mass protests, with Sunday gatherings in Minsk drawing over 200,000 people, and promoted symbols such as Belarus' original red-and-white flag. This flag was originally used by the Belarusian National Republic during its initial existence from 1918 to 1919, and then from 1991 to 1995, during the first four years after the inception of the Belarusian state. Lukashenko pushed for a referendum on the new red-and-green flag, in the Soviet style, in order to suppress perceived dissent associated with national symbols. Display of the old red-and-white flag has been prohibited since 1995, but returned to widespread use as a symbol of resistance; demonstrators wearing the colors are subject to detention. Efforts to remove red-and-white flags have been part of riot police attempts to suppress resistance symbols.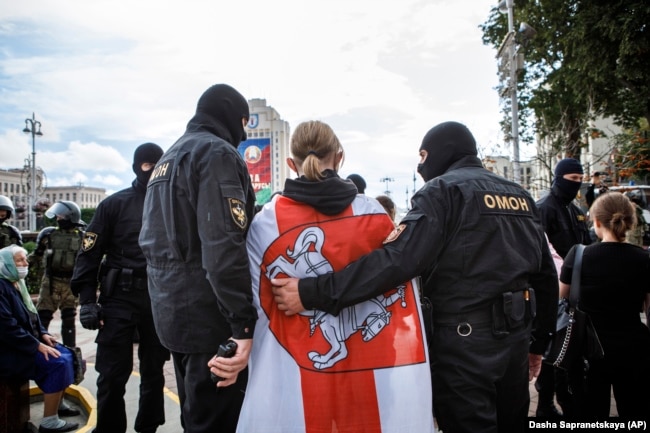 Immense challenges have been imposed on those seeking to reveal the truth behind the election proceedings. On the day of the election, independent news sites were removed; this was due to a law that requires news sites to be hosted on Belarusian servers. This legislation has enabled the government to exert control over independent reporting within the country; citizens also lost access to social networking platforms. The protests have been accompanied by extreme police brutality. There were reports of the use of stun grenades, protestors being jailed for days, shot with rubber bullets, and beaten in the streets. It became unsafe for Tsikhanouskaya to remain in the country, and the Lithuanian foreign minister announced that she had safely entered Lithuania at the onset of the protests. Armed troops have chased protestors; arrests can be random, and excessive force is ubiquitous. As recently as October 11, police attempted to disperse protests in Minsk using batons and a water cannon. Increased arrests have drawn protestors back to the streets to demand prisoners' release. Reports of gruesome acts by the police have further incensed protestors in their cause.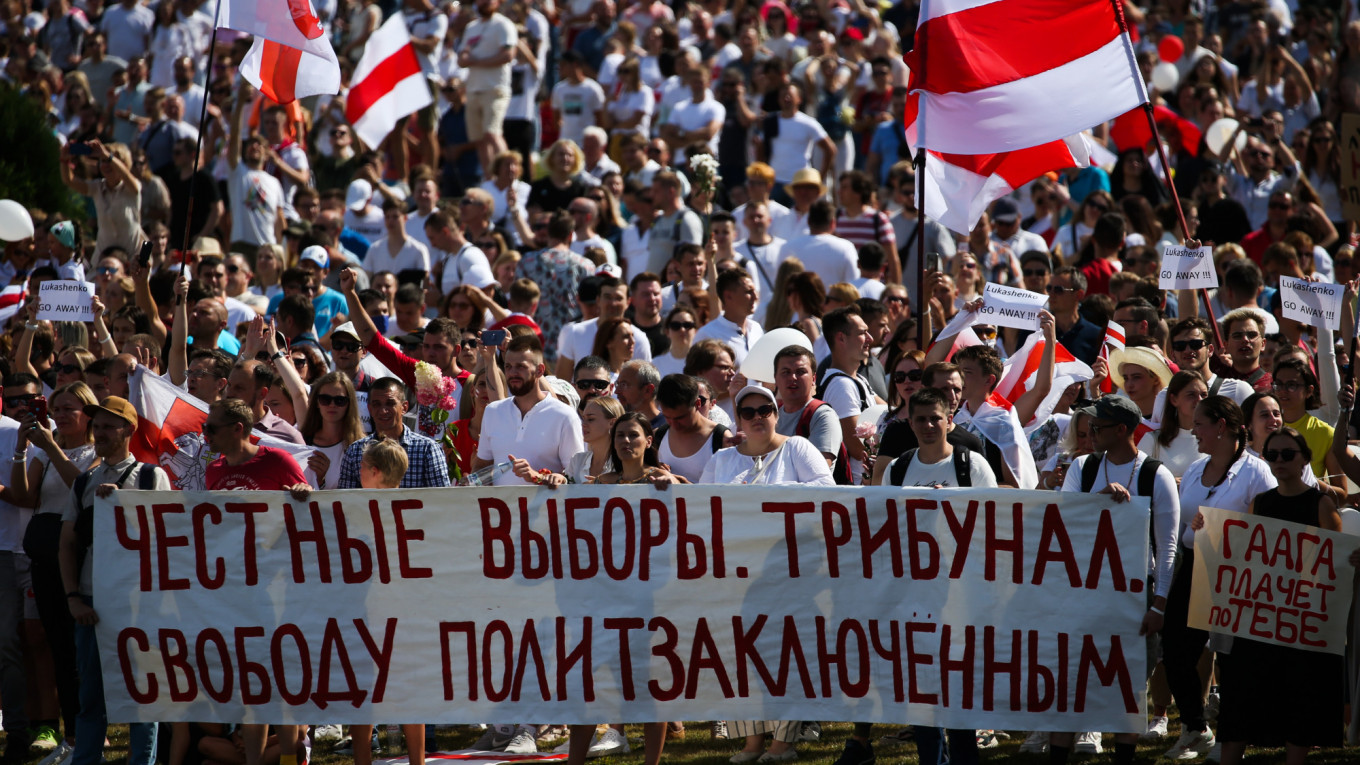 Historical Context
The Belarusian government has previously acted in a repressive manner to maintain its grip on power. Lukashenko has been elected five times; each has been viewed by the international community as being rigged. Protests following these elections have been met with mass arrests. Lukashenko's 2010 opponent, Andrei Sannikov, was beaten and held for months, jailed and forced to emigrate.
Economic stagnation characterizing the past decade has made the Belarusian movement especially potent. Lukashenko's government has rolled back the welfare state model, divesting itself of accountability to citizen well-being, and instituted austere economic policies that have kept wages stagnant amid price inflation. Attempts to increase wages have been backed by printed currency, which has caused inflation to skyrocket, and the Belarusian rouble to devalue (notably, in 2011, by over 60 percent). In 2015, Lukashenko's government legislated a tax on the unemployed. With public resentment rising, the Belarusian police state prevented many frustrated citizens from voicing their displeasure. The current economic crisis in combination with the nature of Lukashenko's re-election serves to contextualize the unprecedented nature of the protests August and September demonstrations.
A 21st Century Movement
The advent of social media organizing has contributed to a more cohesive liberal-nationalist opposition and effective efforts at education on vote-rigging, which have contributed to the widespread nature of the current protests. Belarusian labor organizers have sought to connect economic priorities with the wider-scale uprising against political suppression. In addition to economic concerns, the dismissive nature of Lukashenko's coronavirus response has also contributed to protestors' mistrust of his government. 
Social media has taken on an especially important role in the cohesiveness of Belarusian protestors and their ability to receive news despite the Belarusian government's attempt to suppress dissent in the media. A Stanford University survey of the Belarusian social media landscape determined that Facebook, Instagram and Twitter have a pro-opposition tilt, and Western state media has met a more receptive audience than Russian state media in Belarus. The partial internet blackout imposed by Lukashenko's government prompted an increased use of social media to organize protests and document police brutality. Use of social media by the protestors has also increased Western and Russian awareness of the crisis. 
The social media app Telegram has been especially integral to the movement. Telegram is encrypted and able to function amid internet bans, which has made it conducive to public communication; protest plans distributed by a Telegram channel called NEXTA reach 2.1 million subscribers, out of the Belarusian population of 2.9 million. However, public distribution of protest information and the largely anonymous nature of Telegram does carry with it misinformation and government infiltration risks. Nonetheless, Telegram and other social media apps have demonstrated the essential nature of social media to the organization and publicity of a 21st-century protest. While these outlets have inherent risks, the positive benefits to their use in an anti-authoritarian fashion are undisputable in the Belarusian case. 
Regional Implications
Mass protests in Belarus are, foremost, a massive show of individual political agency in the face of an autocratic regime. Lukashenko's grip on power has been continuous, but the ability for protestors to be heard around the world demonstrates that his government is not infallible. The protests in Belarus also carry implications for the state of the post-Soviet political sphere. With Moscow beleaguered by protests in far-East Khabarovsk and allegations over the poisoning of Russian opposition leader Alexei Navalny, the protests in Belarus carry further potential for the destabilisation of the region.
Putin's grip on power has been made more tenuous by these destabilizing events; Navalny's poisoning and the Khabarovsk protests are the feared harbingers of results such as those in Belarus. The persistence of protests against Lukashenko's regime, despite police efforts at subduing dissent, has alerted Putin's government to the possible results of public uprising against perceived social injustice. Lukashenko has used this to his advantage to draw support from Putin; by linking his fate with Putin's, Lukashenko appeals to Putin's need to secure his future in asking for defense assistance. 
Parallels are blatant between Putin's autocracy and Lukashenko's dictatorship. The manner in which events have unfolded in Belarus shows that there is a time limit on strongman leadership. An unequivocal failure of police violence and dissent quashing techniques to subdue Belarusian protestors, with protests continuing into October and demonstrators numbering over 100,000 in Minsk, shows the low likelihood of Putin's ability to subdue a similar public response. This does not bode well for Putin's political future amid growing criticism of the Kremlin, displayed both in public responses to the poisoning of Navalny and in the protests in Khabarovsk. 
The coalescence of the opposition movement in Belarus this August is framed by a protracted cycle of economic crises and a declining welfare state. This economic state, combined with a repressive government, has created a discontented public, who are now risking their lives for the hope of a freer future. 
Featured Image Source: Sergei Gapon/Agence France Presse