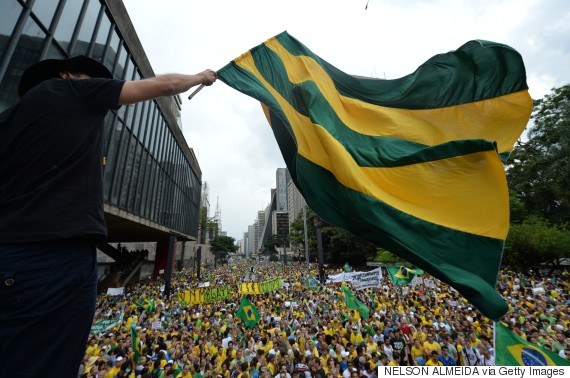 Less than five months after voting President Dilma Rousseff into office last October, the Brazilian people have demanded her impeachment. On March 15th, 2015, approximately one million Brazilians, wearing the national colors of green and yellow, took to the streets in a series of nationwide demonstrations and chanted "Out Dilma." Sao Paulo witnessed the largest turnout of any city, with about 210,000 protesting on main Paulista Avenue.
The intensity of civic activism so early into Rousseff's term reveals the Brazilian population's doubts about their political system. Protesters have lost faith in Rousseff's government, and Rousseff herself has become the "target of rising discontent amid a faltering economy and a massive corruption scandal at state oil giant Petrobras," according to Al Jazeera. Early this March, Attorney General Rodrigo Janot alleged that not only did private companies bribe public officials with at least $800 million to win contracts, but also that the top politicians in Brazil pocketed a portion of the money awarded to these firms. Even though Rousseff was not directly involved in the scandal, public opinion towards her quickly plummeted. As Alessandro Braga, a construction contractor at the March 15th demonstration in Brasília, explained, "the biggest corruption scandals occurred during [Rousseff's] administration and she said nothing." Indeed, though not implicated herself, Rousseff served as the Energy Minister and the chairwoman of Petrobras when the corrupt actions supposedly occurred. Thus, disillusioned Brazilians like Braga and his family took to the streets to express their utter disappointment in the government. Before the protests, only 44% of the respondents to Datafolha's nation-wide poll rated Rousseff's government as "bad" or "terrible." Shortly after the demonstrations, the figure rose to a prominent 62%. The last time that a Brazilian president's approval ratings plummeted to an all-time low occurred back in 1992, when then-President Fernando Collor de Mello was impeached for corruption.
The recent protesters not only expressed frustration with Rousseff's tenure, but also with the economy and their declining standard of living. The Sao Paulo demonstrators opposed the "higher taxes, poor public services, and increased prices for government-regulated items, including gasoline," according to the International Business Times. In addition, the recent economic downturn only worsened the political situation. With inflation at its 10-year peak and the currency at a 12-year low, Brazil's economy is projected to further decline into recession this year. Already on Twitter, the hashtag #VaiaDilma – meaning "Boo Dilma" – is trending.
These complaints and scandals are not new to the Brazilian political arena. In June 2013, corruption, among many other disappointments, fueled Brazilians' anger and motivated them to take to the streets. Ultimately, these protests resulted in tightened legislative powers. Nevertheless, in light of recent development with the Petrobras scandal, the corruption epidemic has only worsened.
While the nation's frustration and disillusionment with the many failures of the Rousseff administration are most certainly valid, impeaching the President would only doom the political system. Supporters of Rousseff argue that an act of impeachment less than 5 months after taking office amounted to a "coup attempt." As former Brazilian President Fernando Henrique Cardoso said, "impeachment proceedings are like a nuclear bomb – it works as a deterrent, but you don't use it." Even the President herself said that Brazilians are free to protest, but cannōot overturn the election's results.
Indeed, an impeachment would be a disastrous move for Brazil's political and economic malaise. On one hand, Brazilians enjoy the constitutional right to demonstrate, as evidenced by the March 15th protests, which fell on the 30th anniversary of the nation's first civilian president, Jose Sarney, stepping into office and ending the military dictatorship. Taking to the streets will pressure the current government to take into account popular discontent and enact reforms. Indeed, when protesters "turned out in force to voice their feelings about the direction of the country under Rousseff and the ruling Workers Party," this vehement element of public opinion forms a feedback mechanism inherent in a true democracy, where the people keep the government accountable. These demonstrations will force Rousseff to be responsive to the people's demands by changing her economic policies and stamping out corruption.
Hence, at the top of Rousseff's agenda should be to regain the people's trust. A survey by the Datafolha polling institute revealed that the Rousseff administration's approval rating dropped from a 42% high in December 2014 to an all-time low of 23% in February 2015. Rousseff must now change her stance towards the Petrobras scandal. Though not directly implicated, she has always been passive when it comes to corruption, allowing the illegal exchanges to pass right under her nose. In fact, despite her claims of not knowing about the overpriced contracts, opinion polls reveal that many Brazilians did not believe her alleged ignorance. Following that passivity, Rousseff recently announced that her government will not interfere with the Petrobras court proceedings and allow justice to take its rightful course.
However, the lack of action is insufficient to salvage her position. She must take the initiative to oversee greater efforts in stamping out corruption. Back in 2012, under her predecessor Luiz Inácio Lula da Silva, many officials and political elites were imprisoned for the Mensalão scandal, a major vote-buying corruption case. Rousseff would have to continue Lula's proactive legacy of maximizing political honesty and trust in government. Another major feat would be to introduce anti-corruption measures through the nation's legislative system. For a start, she has introduced seven new measures: some allow for up to 10 years of imprisonment and others would fine corrupt officials 5 to 10 times the amount that was involved in the scandal. She must rebuild her staunch anti-corruption image to the point that the public –  and even officials within her government – are convinced of her commitment to stamp out corruption at all costs.
Although impeachment seems unlikely, Rousseff should still worry about her legacy. At this point in time, she would have to reinvent her image as an unyielding opponent of corruption –  and she should take all possible measures to hold her officials accountable to their actions. Trust between the people and their government is an essential component of a well-functioning democracy, and it is President Rousseff's obligation to rebuild this fundamental element of Brazil's political system.